Long Valley, NJ And Surrounding Areas
DECK INSTALLER IN LONG VALLEY, NJ
It may look like a simple pressurized wooden structure of posts and beams, but the average residential deck must endure a lot of wear and tear. Make sure yours is built right with expert deck installation from Meck Brother's Construction in Long Valley, NJ. Our decks are built to last, and we use only high-quality materials to deliver a final product that will withstand the test of time.
When you contact Meck Brother's Construction, you'll speak with professionals who are at the top of their field. Enlist our deck installation services, and you can count on:
An impressive choice of materials, including wood, vinyl, and composite

A clear and honest work ethic

An informative consultation and accurate estimate

A job that will be finished on time and within your budget
If you're ready for a new deck, ours is the team to trust. Call us today for more information or to schedule an estimate.
Read Our Outstanding Reviews
Needed a few repairs done and Meck Brothers came out and competed the repairs in a timely and professional manner. Very courteous, friendly and informative as well. Would highly recommend and we will be calling them again with future repairs and/or projects.

- Stefanina Jara. 4/4/2020

Mitch and The Gang do great work. After I bought my townhouse , I needed to refinish my basement , the center hall bathroom , my daughters room and install a hardwood floor in the master bedroom. During that work , a pipe in the kitchen burst and I needed the floor redone. Meck Brothers gave me a great price ,did a great job in a reasonable amount of time and also worked with the insurance company to help with the estimate for my kitchen. Mitch was referred to me by a friend , whom he also did for and I am very happy to recommend Mitch to my friends going forward.

- Jason Rebeck. 8/23/2019

Meck Brothers were very eager to work on a community project with us (Raising The Roof For Levi) They donated time, materials, and labor and completed the baseboard, window and door trim job in a matter of a few days, They communicated with us and other suppliers to make the schedule efficient which took a load off our shoulders. Mitch kept me in the loop of the progress and even checked in often to make sure everything was going smoothly! They showed us various options and met with us frequently to go over every detail. The workers were very polite and worked hard. They were at my house 8-4 daily. We highly recommend them for any of your projects and appreciate their dedication and follow through with ours! THANK YOU MECK BROTHERS!!! Love, The Spencer Family

- Levi Spencer. 11/28/2017

I am a local Realtor and decided, I know enough about remodeling...I'll tackle this bathroom renovation with my husband! Half way though we realized that our DIY project looked AWFUL! We were weeks behind, over budget and FRUSTRATED beyond belief... Meck Brothers to the rescue! Mitch came in to give us a price that was fair and was there in a reasonable time to get started. His staff is courteous & kept our workspace clean and organized. Our project was completed on time, on budget without any surprises along the way. Being a Realtor, I work with many homeowners and contractors. I hear horror stories of experiences from homeowners that have dealt with unprofessional contractors. Meck Brothers sets themselves apart from the crowd. They LISTEN to your wishes and tailor each project to your needs. You cannot ask for better service. Highly recommended!

My partner is a DIY kind of person. Sometimes things work out, sometimes not. This past Saturday, December 30th was a "sometimes not" kinda day. After working on replacing the master bathroom plumbing all day we turned the water on only to have several leaks and our furnace puking water onto the basement floor. I posted a "H E L P" on the Long Valley Community FB page, to which Mitch from Meck Bros replied immediately. He suggested I call a few people but all were not available or didn't return my call. Eventually Mitch was able to reach the Meck plumbing man Tommy. Mitch texted me that Tommy would be right over. Tommy arrived promptly with his tools and positive attitude and fixed the issues within 30 minutes. Tommy even shared a few tips for our future DIY endeavors. I HIGHLY recommend Meck Brother's construction. They are always are prompt, courteous, and they get the job done the first time.

It was a pleasure working with Mitch, Jason, John, Zach, Tommy & John Jr. From design to the finished project we couldn't be more pleased; our kitchen is a true work of art.

- Mary McDermott. 1/5/2018

We couldn't be happier with the job Meck Brothers did on our kitchen remodel! From concept to finished product the team was there and flawlessly executed the design. Our kitchen is beautiful and we would recommend Mitch and his team to anybody looking for home improvements. They also went above and beyond the project fixing unsafe conditions like broken joists in our attic that they found along the way, also when our dog was not feeling well they took time during their work to let him out and they even let him hang out end help. Thank you Mitch, Jason, John, Zach, Tommy and John Jr! It was a pleasure working with all of you! We'll see you on the next project.

- Mike McDermott. 1/6/2018

Mitch and his team have completed a few projects for us in Belvidere, NJ. We live in a 1886 Victorian and they had no problem dealing with the curveballs thrown at them with the old house. They installed a new bathroom including a new clawfoot tub and 7ft shower with 2 shower heads. Everyone was easy to work with and the work was done very professionally. Highly recommend!

Meck Brothers remodeled our Main & Master bathrooms over the past 2 months. The outcome far exceeded our expectations. Our 70's bathroom was transformed into a beautiful spa-like oasis with a beautiful soaking tub and a magnificent tile job by Tommy . Our Master bathroom was converted from a tub/shower to a beautiful rock-wall shower which is beautifuly finished with a granite bench.

Tommy and his helper John were our " bathroom crew" but quickly became our friends. They are professional, courteous, they go above and beyond what is expected and they even liked our dogs😊

I would recommend Meck Brothers for a remodel of any kind but especially a bathroom. Great job guys 👍

We highly recommend Meck Brothers and could not be more pleased with the results of our main bathroom remodel. We had a very dated 1970s bathroom that we have hated since we bought our home 4 years ago but Mitch and Tommy have created a stunning bathroom. They were always helpful and courteous. They were experienced every step of the way. Not only is it beautiful but we know the structure is sound because they took the extra steps to insure that what's behind the "walls" is as sound as what you see when looking at it.

They have Exceeded all of our expectations. Thanks Mitch and Tommy. And a big shout out to Ivan who replaced, sanded and stained all the hardwood flooring in our bedroom (due to mold from a hidden leak in our old bathroom) and matched it to the rest of our home!.

Mitch and his crew does high quality work. Hoping to hire him to do work in my house soon.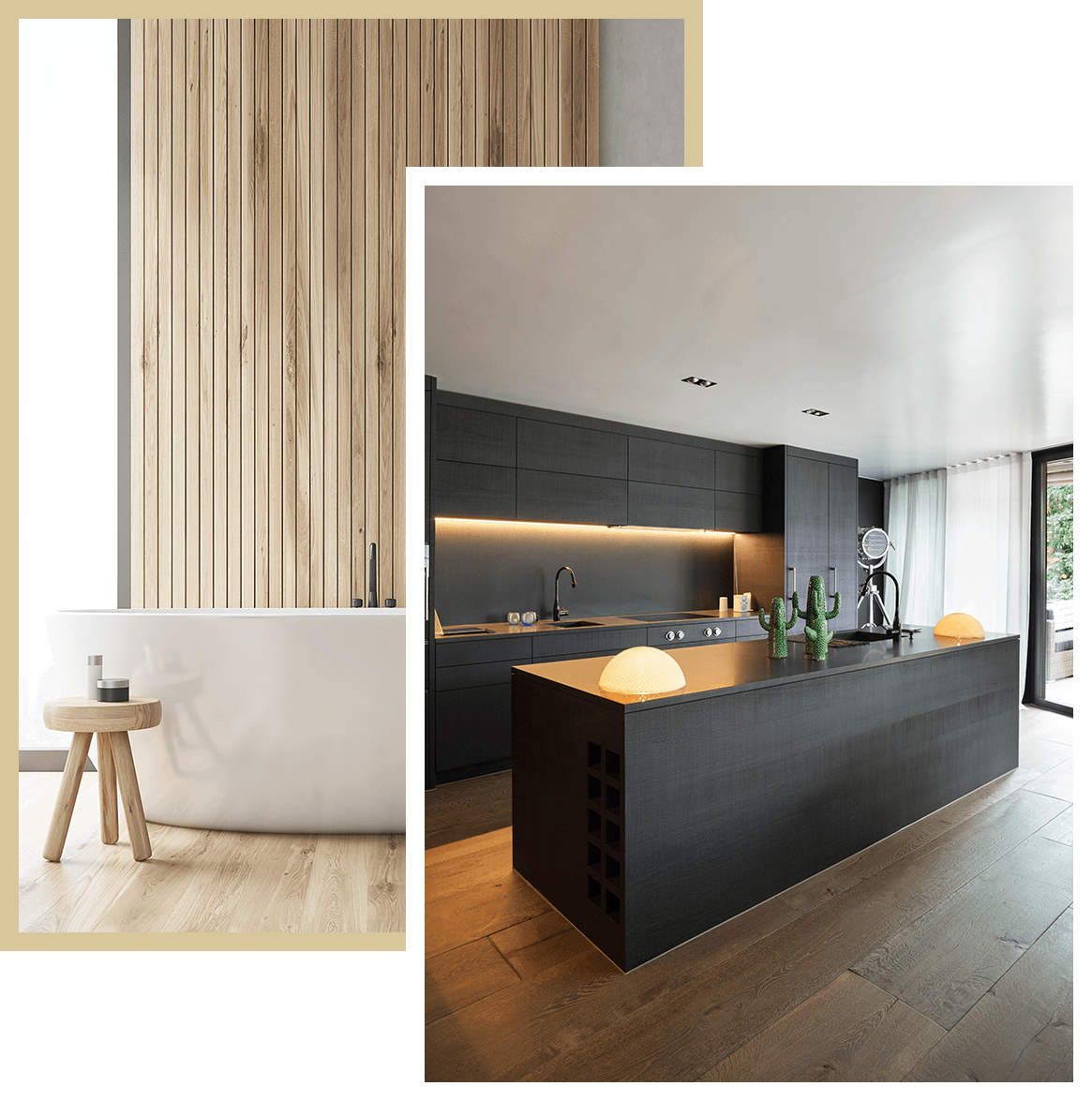 We offer a highly skilled and experienced joinery service with craft and creativity at the heart of all of our projects.
Renovation & maintenance

Outdoor, stairs, decking

Custom builds

Wardrobes & cabinetry

Commercial

Kitchen & bathroom
Luxury Residences | Commercial | Hospitality
Have a vision for your interior space?